Ferguson hoping for peace, bracing for worst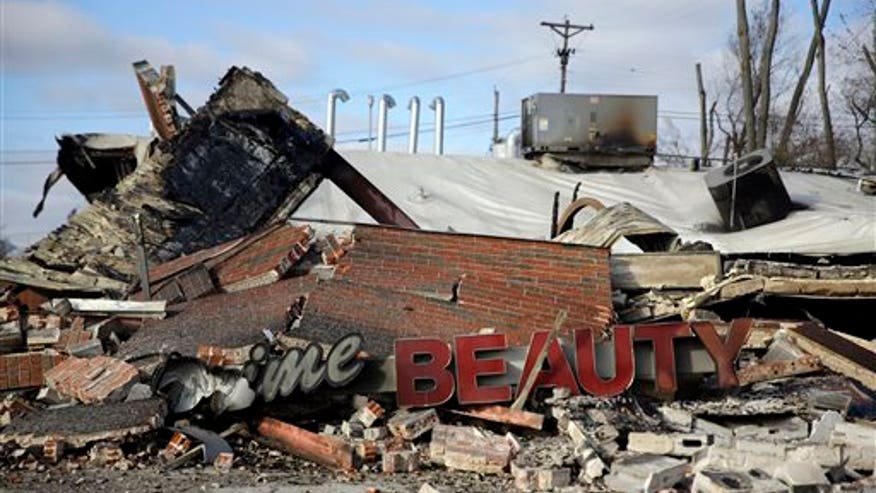 Editors Note: The Governor of Missouri is Jay Nixon a Democrat who held the National Guard in reserve instead of deploying them to stem the violent rioting, looting and as it turned out business being set ablaze. Political move? How would it look politically for all Democrats to have the Missouri National Guard marching down the streets of Ferguson in battle dress forcibly moving both demonstrators and rioters out of the way. I am sure the business owners of ALL races would have preferred that then have their business torched and looted. Then to have Obama inject himself in a local state matter made things even worse. As Obama's former Pastor Reverend Jeremiah Wright once preached " America's chickens are coming home to roost" only this time it is Obama's Chickens that have come home to roost with his and his Attorney General Eric Holder preaching and spreading racial divide. Instead of being the Uniter he promised when he was campaigning for President he has been a Divider of Race, Income and Gender. [TS]
A mix of weary unease, fear and hope has set in on Ferguson, Mo., after a night of rioting followed the announcement that a grand jury had declined to indict a police officer who shot an 18-year-old black man dead in a case that exposed a deep racial divide and left parts of the town in ruins.
Mass rioting and looting, the torching of police cars and arrests of at least 60 people left part of the city looking like "a different world," in the words of one local pastor. And before the city can begin to recover, residents and merchants must know the rioting is over.
"We're expecting it to flare up again, especially when it gets dark," said the Rev. Dusty Thompson, of Ferguson Church of the Nazarene. "There's definitely some trepidation for tonight, but we are just praying that peace will be pursued and that our community will come together."
"I'm the only one that didn't burn," said Dan McMullen, who has owned an insurance company in the Ferguson area for 20 years. "The buildings to the right and left of me burned down. The beauty shop to the left of me is totally flat. It's a 60-year old building made out of concrete and metal."
"I never thought they would burn the place down," said McMullen, adding he fears the violence may continue — perhaps escalate — Tuesday night.
"I never thought they would burn the place down."- Dan McMullen, Ferguson insurance broker
"I went to get pictures today from my office in case they try to burn it down tonight," McMullen, a former policeman and Vietnam veteran, told FoxNews.com. "My wife just sat there and cried."
Ferguson Mayor James Knowles on Tuesday said the National Guard was not deployed fast enough to protect all businesses, which he said was deeply concerning. He called on Missouri Gov. Jay Nixon to deploy all resources possible to prevent "further destruction of property" and ensure "the preservation of life."
Knowles was joined at an afternoon press conference Tuesday with Ferguson business owners, residents and clergy members, one of whom addressed the violent protestors directly, saying, "This is not the answer to continue to destroy us."
Thompson said surveying the damage in the hardest hit part of the city was troubling.
"I was just up there, and at times you can feel like you're in a different world," he said. "But even in the midst of that damage, there is hope for Ferguson."
Thompson said the shooting and the ensuing fallout has exposed divisions, but also sparked positive conversation.
"It is causing people to talk, and maybe some of that racial divide is being crossed," Thompson said. "It's causing us to look at some of these situations and issues, and, while you wish it would be more peaceful, it is forcing some of these conversations and maybe some reconciliation."
An aide to St. Louis County Prosecutor Bob McCulloch defended the timing of the grand jury announcement in a statement to FoxNews.com.
"We coordinated with law enforcement, gave schools time to get the children home and in a safe place, gave businesses time to make decisions concerning the safety of their employees, gave media time to set up, prepared our statement, and then made the announcement," McCulloch spokesman Ed Magee said in an e-mail.
McCulloch held a news conference at 8 p.m. Monday to announce the decision — and some questioned whether the nighttime announcement fed the unrest. Former two-term Ferguson Mayor Brian Fletcher said it should have been announced early in the day to give police more time to prepare for any nighttime unrest.
The potential for more violence has expanded well beyond Ferguson. Police in U.S. cities from Los Angeles to New York are prepared for another day of demonstrations after thousands flooded the streets, some in peaceful protest and others in riotous anger over the grand jury's decision not to indict Officer Darren Wilson in the shooting death of Michael Brown.
Renewed plans for marches and rallies came as officials in cities such as Oakland, California, were still cleaning up after scores of people hurled bottles, broke windows, set small fires and vandalized a police car.
In Seattle, police responded with pepper spray and flash-bang grenades after demonstrators threw canned food, bottles and rocks. Protesters also briefly shut down part of an interstate. Five were arrested.
In New York, a man was arrested for throwing red paint that struck Police Commissioner William Bratton and his security detail.
Elsewhere nationwide, demonstrators were mostly law-abiding Monday night, leading marches, waving signs and shouting chants of "hands up, don't shoot," a refrain that has become a rallying cry in protests over police killings across the country.
The racially charged case in Ferguson has inflamed tensions and reignited debates over police-community relations even in cities hundreds of miles from the predominantly black St. Louis suburb.
Rallies were planned Tuesday in many Newark, New Jersey; Portland, Maine; Baltimore; Washington, D.C.; and elsewhere. In the nation's capital, one group lay on the ground to stage a "die-in" in front of Metro police headquarters. The group plans to occupy various buildings in the district over 28 hours.
"Mike Brown is an emblem (of a movement). This country is at its boiling point," said Ethan Jury, a protester in Philadelphia, where hundreds marched. "How many people need to die? How many black people need to die?"
Protests could continue Tuesday in California, including in Oakland, where marchers took over Interstate 580.
In Los Angeles, demonstrations remained mostly small and peaceful, but about 200 people marching toward downtown briefly shut down Interstate 110, City News Service reported.
After midnight, officers wearing riot gear fired hard-foam projectiles into the ground to disperse about 50 protesters downtown, the Los Angeles Times reported.
Police Chief Charlie Beck said Tuesday there were no injuries and no property damage during hours-long demonstrations across LA. Three people were arrested.
Source: http://www.foxnews.com/us/2014/11/25/ferguson-hoping-for-peace-bracing-for-worst/